Yoshi

North American boxart
Developer(s)
Game Freak
Publisher(s)
Nintendo
Designer(s)
Shigeru Miyamoto
Series
Yoshi/Mario
Release date
NES
December 14, 1991
June 1, 1992
December 10, 1992


Virtual Console
March 6, 2007
August 12, 2008
July 9, 2007
May 18, 2007
May 18, 2007


Genre(s)
Puzzle
Mode(s)
Single player, Multiplayer
Ratings
ESRB: E (VC)
Platform(s)
NES, Game Boy, Virtual Console
Media
2-megabit cartridge
Yoshi is a game developed by Game Freak and published by Nintendo. It was released late 1991 in Japan, and mid-to-late 1992 in North America and Europe. It was later re-released on the Game Boy and Virtual Console.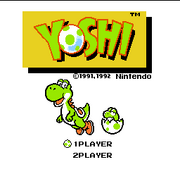 This article is a stub. You can help Mario Wiki by expanding it.

Ad blocker interference detected!
Wikia is a free-to-use site that makes money from advertising. We have a modified experience for viewers using ad blockers

Wikia is not accessible if you've made further modifications. Remove the custom ad blocker rule(s) and the page will load as expected.