Red links alert! They will be fixed!


The following article contains broken links.
The broken links on the page will be created soon.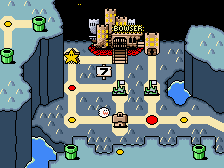 The Valley of Bowser is an area in Dinosaur Land in Super Mario World. The entrance to the Valley of Bowser appears after going through the Sunken Ghost Ship area. It is where Bowser oversees his operations on Dinosaur Land.
Levels
Secret Levels