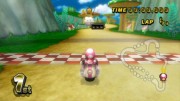 VS Mode
is one of the many modes in the
Mario Kart
series. VS Mode is when a first and second player race each other alone on whatever course they want to pick (unlike
Grand Prix
where you pick a cup). VS Mode is not only 2 players, but can be 4 players as well, unless the game is
Super Mario Kart
, where since there were only two controller sockets, VS could only be 2 players.
Mario Kart started featuring Wi-Fi play, where the player can play against many other people Regionally or around the world. This feature began in Mario Kart DS and returned in Mario Kart Wii. In this version of VS, the player can either put in his/her vote in a poll, or just choose random, where he/she doesn't really care what course it is. When everyone has submitted their vote into the poll, the game will automatically choose a course. After the course is chosen, the race will begin. Wi-Fi VS never ends, though, and keeps going on and on until everyone has disconnected from each other.
Ad blocker interference detected!
Wikia is a free-to-use site that makes money from advertising. We have a modified experience for viewers using ad blockers

Wikia is not accessible if you've made further modifications. Remove the custom ad blocker rule(s) and the page will load as expected.