The Super Mario Bros. Super Show!
Comments

0
4,027pages on
this wiki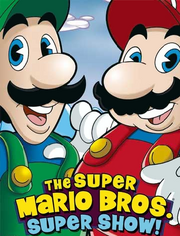 The Super Mario Bros. Super Show! is a TV series made in 1989 developed by DiC Entertainment. The show led with a "live-action" section for up to five minutes, moved onto an animated part of the show, and for the final five minutes it reverts to the live-action filming, totalling about half an hour. The "live-action" segment was based on Mario and Luigi, with problems with plumbing, living in a basement, and generally being fed up of Italian jobs. The animated segment insinuates them enjoying their time, fighting with each other and saving Peach. The series began on September 4, 1989, and ended on December 1, 1989. It was distributed by Viacom Entreprises. It was associated with the show King Koopa's Kool Kartoons.
Cast
Other voices
Music
For all Mario raps click here: Mario Raps
The Plumber Rap 1 (Opening theme)
The Plumber Rap 2 (Opening theme)
Do the Mario (Ending Theme)
Trivia
Two WWF/E Hall of Famers perform in this show, the late Capt. Lou Albano and Sgt. Slaughter.
The cartoon noticeably uses the same engine as Hulk Hogan's Rock n Wrestling and Adventures Of Sonic The Hedgehog.