Red links alert! They will be fixed!


The following article contains broken links.
The broken links on the page will be created soon.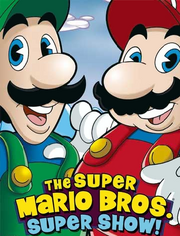 "Hey there, Pisanos! It's The Super Mario Bros. Super Show!"
— Mario at the title screen
The Super Mario Bros. Super Show! is a TV series made in 1989 developed by DiC . The show led with a "live-action" section for up to five minutes, moved onto an animated part of the show, and for the final five minutes, it reverts to the live-action filming, totaling about half an hour. The "live-action" segment was based on Mario and Luigi, with problems with plumbing, living in a basement, and generally being fed up of Italian jobs. The animated segment insinuates them enjoying their time, fighting with each other and saving Princess Toadstool. The series began on September 4, 1989, and ended on December 1, 1989. It was distributed by Viacom Entreprises and currently distributed by Paramount Home Video and NCircle Entertainment. It was associated with the show King Koopa's Kool Kartoons. Many stores had the home videos of this show. NCircle Entertainment also released them on DVD at GameStop along with Nintendo games. The NCircle Entertainment DVDs of the show were also sold at more stores.
Cast
Other voices
Robert Bockstael
Dorian Joe Clark
Rob Cowan
Denise Pidgeon
Paulina Gillis
Greg Morton
Joyce Gordon
Greg Swanson
Diane Fabian
Marilyn Lightstone
Marla Lukofsky
Music
For all Mario raps click here: Plumber Raps
The Plumber Rap 1 (Opening theme)
The Plumber Rap 2 (Opening theme)
Do the Mario (Ending Theme)
Trivia
4 WWF/E Hall of Famers perform in this show, the late Capt. Lou Albano, the late "Rowdy" Roddy Piper, Cyndi Lauper and Sgt. Slaughter.
The cartoon noticeably uses the same engine as Hulk Hogan's Rock n Wrestling and Adventures Of Sonic The Hedgehog.
Mario wears a blue shirt and red overalls from his first appearance in Donkey Kong and the first two Super Mario Bros. games and Luigi wears a blue shirt and green overalls from Super Mario Bros. 2 in the cartoon. Also, Bowser is referred as King Koopa and has green skin instead of orange and wears two spiked collars instead of five and wears a gold crown instead of having the usual red hair, resembling his sprite from Super Mario Bros.. Peach is referred as Princess Toadstool and has red hair instead of blonde and she has no white gloves and wears a plain gold crown resembling her sprite from Super Mario Bros. and Super Mario Bros. 2 and Toad's appearance is based on his sprite from Super Mario Bros. in which his vest is red instead of blue and his shoes were purple instead of brown. However, in the first three episodes, Toad's color scheme is reversed having a red hat with white spots and white vest with red pants and white shoes, although this old color scheme would later be reused for Toad's super form in The Fires of Herculfleas.
The cover songs from the original airings were edited out and replaced with instrumental songs from The Adventures of Super Mario Bros. 3 and Super Mario World in the later TV airings and the DVD releases.