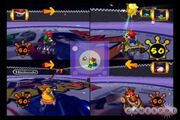 Shine Thief is a Battle Mode in to Mario Kart: Double Dash!! and Mario Kart 8 Deluxe. The goal of this mode is to keep a Shine Sprite in possession until time runs out. This means that unlike Balloon Battle, which is focused on offense, winning Shine Thief requires a great defense and good evasion skills. Other racers can use items to knock the Shine Sprite out of a player's possession and steal it. When hit with an item, it takes a few seconds to be able to pick the Sprite back up.
Ad blocker interference detected!
Wikia is a free-to-use site that makes money from advertising. We have a modified experience for viewers using ad blockers

Wikia is not accessible if you've made further modifications. Remove the custom ad blocker rule(s) and the page will load as expected.