Time to clean up Isle Delfino and articles!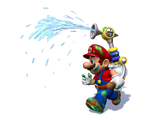 This article requires cleanup.
You can discuss this in the comments or edit this page to improve it.
SEGA is gaming developer and publisher, which rivaled Nintendo during the early 90's with their systems such as the Genesis and the Master System. They have stopped making consoles, instead publishing games on the Wii in recent years, but continue to make Sonic the Hedgehog games.
Working With Nintendo
In 2008, SEGA decided to work with Nintendo on the game Mario and Sonic at the Olympic Games, in which Sonic and his allies challenged Mario and his friends. Also that year, Super Smash Bros. Brawl was released where Sonic was a playable character.
Mario & Sonic at the Olympic Winter Games was released in 2009. Also, they helped with the release of Mario & Sonic at the London 2012 Olympic Games.
Creating Sonic the Hedgehog
Sonic the Hedghog is the most popular video game that SEGA has released. The creation of Sonic was difficult having to look at the features of a Hedgehog and then later cartooning it. Sonic has released some of the most popular games and was created very similar to Mario.
Ad blocker interference detected!
Wikia is a free-to-use site that makes money from advertising. We have a modified experience for viewers using ad blockers

Wikia is not accessible if you've made further modifications. Remove the custom ad blocker rule(s) and the page will load as expected.