Penguin Mario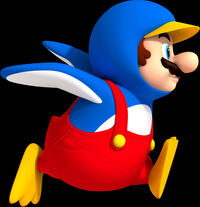 Mario's Penguin Suit
Penguin Mario is the form of Mario in a Penguin Suit. This suit has only appeared in New Super Mario Bros. Wii. The suit is helpful for walking on slippery ice, sliding (which allows the player to slide into nearly anything and destroy it; this is useful when wanting to get into secret areas), faster swimming (similar to the Frog Suit), and the player can throw Ice Balls, like Ice Mario.
The suit makes a cameo appearance in Mario & Sonic at the London 2012 Olympic Games, where the suit is unlockable for Miis.
Ad blocker interference detected!
Wikia is a free-to-use site that makes money from advertising. We have a modified experience for viewers using ad blockers

Wikia is not accessible if you've made further modifications. Remove the custom ad blocker rule(s) and the page will load as expected.