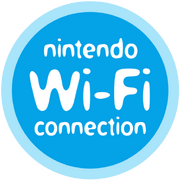 Nintendo Wi-Fi Connection is one of the features for the Wii and Nintendo DS. As the name applies, it uses Wi-Fi Connection, so that players can play specific games (made to use Wi-Fi Connection) online. Two of the most notable Mario games using this feature are Mario Kart DS and Mario Kart Wii. Super Smash Bros. Brawl also uses this feature.
Nintendo Network is the successor of Nintendo Wi-Fi Connection, and is compatible with the Nintendo 3DS and the Wii U. Although it is for the 3DS, 9 games released for the 3DS when it was still Nintendo Wi-Fi Connection.
Unfortunately, the Nintendo Wi-Fi Connection has been discontinued as of May 20, 2014. However, other features such as the shopping channel are still accessable.
Mario Wii Games including Nintendo Wi-Fi Connection
Mario DS Games including Nintendo Wi-Fi Connection
Ad blocker interference detected!
Wikia is a free-to-use site that makes money from advertising. We have a modified experience for viewers using ad blockers

Wikia is not accessible if you've made further modifications. Remove the custom ad blocker rule(s) and the page will load as expected.