Motley Bossblob
Comments

0
4,887pages on
this wiki
The Motley Bossblob is a boss who is introduced in Super Mario 3D World.
Description
Motley Bossblob is commanded by a Koopa jester. This jester uses a magic wand to assemble, and control gelatinous beings. But the jester's primary action is to use the blobs to assemble themself into a gigantic clown-like monstrosity. Whether the jester uses their wand to create or summon these gelatinous beings is unknowable, but the blobs and the jester all have the same distinct, diamond-like pupil. Perhaps the blobs are not sentient and the jester only makes them sentient to attack. The jester seemingly has heterochromic iridis, since their left pupil is blue and their right pupil is red. They first appear in World 6-C.
Tactic
After turning into the clown creature, Bossblob will attempt to jump on
Mario
multiple times. On the final leap, Bossblob ground pounds and splatters. This disassembles the blobs and reveals the jester. During this time the blobs and the jester are vulnerable to assault. Mario must chase the fleeing jester whilst avoiding the harmful blobs.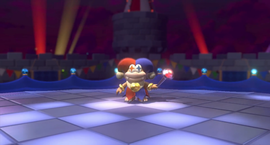 This article is a stub. You can help Mario Wiki by expanding it.