This article is in need of an infobox.
Please remove this template once or when an infobox has been added.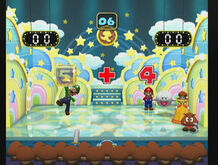 Mathletes is a 1 vs. 3 bonus mini-game from Mario Party 5.
Gameplay
The players must make a math equation by hitting three Dice Blocks (two with the numbers 1-6 and an operation symbol +, - or x). The solution of the problem equals the number of coins that everyone receive and that total will be added to everyone's Scoreboard. Everyone can win up to 36 coins.
Controls
- Hit block
Ad blocker interference detected!
Wikia is a free-to-use site that makes money from advertising. We have a modified experience for viewers using ad blockers

Wikia is not accessible if you've made further modifications. Remove the custom ad blocker rule(s) and the page will load as expected.