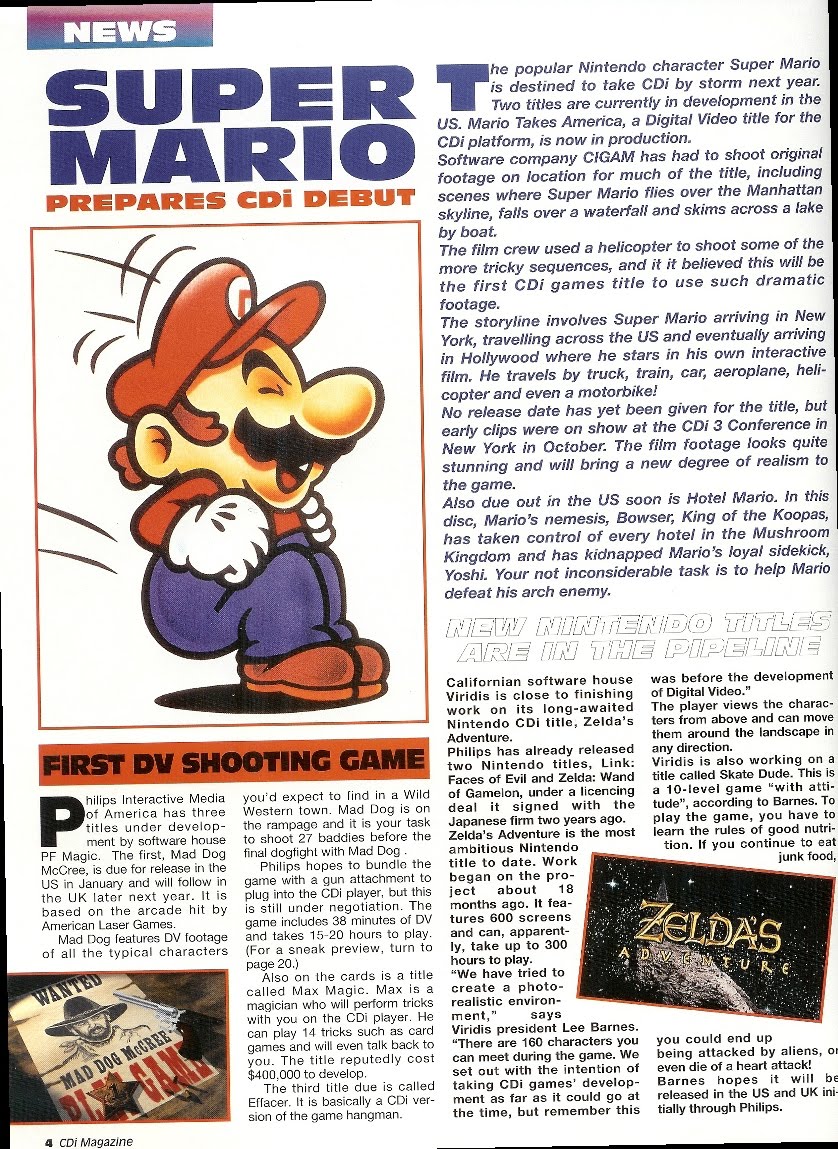 Mario Takes America
is a cancelled game for the Philips CD-I. A UK magazine article had announced the game in 1994.
History
A Toronto-based developer called Cigam approached Philips about making an edutainment game starring Mario. While they were impressed by their pitch, Philips immediately granted Cigam's funds so they could begin their work on the project.
Footage was filmed, with some of the shots using a helicopter. The game was announced in an issue of the UK CD-I magazine, and early footage was shown at the New York CDi conference and the 1994 Winter CES.
Philips ended up unimpressed by the progress of the project and cut funding. Without any funds, Cigam cancelled the game and went bankrupt in 1994.
Features
According to the UK CD-I magazine announcement, the game would have taken place on Earth. (in a way like Super Mario's Wacky Worlds, another cancelled CD-I game) and more specifically, the United States. The plot of the game would have had Mario arriving in New York and travelling across America in order to reach Hollywood to star in his own feature film.
The magazine advertised the fact that Mario would use many vehicles such as a truck, a car, an aeroplane, a helicopter, and a motorbike as being usable. However, how (and if) the vehicles would have factored in the game is unknown.
Film footage was recorded for the game, which indicates that live-action Full-Motion video would have been used in some capacity. This is further reinforced by a statement in the announcement, which states that the film footage "bring a new degree of realism to the game"
Ad blocker interference detected!
Wikia is a free-to-use site that makes money from advertising. We have a modified experience for viewers using ad blockers

Wikia is not accessible if you've made further modifications. Remove the custom ad blocker rule(s) and the page will load as expected.