Home
Talk

267
4,727pages on
this wiki
Click the play button, a random Mario song will play!
Welcome to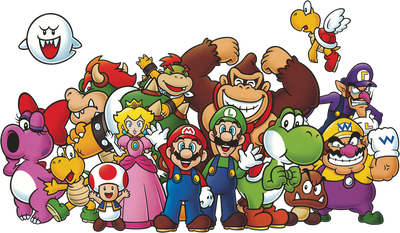 MarioWiki is a collaborative encyclopedia for everything related to the Mario series. There are 4,727 articles and growing since this wiki was founded in July 2007. The wiki format allows anyone to create or edit any article, so we can all work together to create a comprehensive database for the Mario series.
The MarioWiki community would love it if you'd join us in our Chat room for friendly conversation.
Attention! The Glitz Pit has been revived! Please vote on your character right away!
Attention! Puzzle Panic Fever is now in session! Have fun with solving word searches and other cool stuff!

Overview · Wiki tutorial · Help pages · Navigation
Joke of the Month
Credit goes to Jeremy★VAL for such an amazing joke!
Part 1
Part 2

---
Also, suggest a joke!
See previous joke results here!
On a scale of 1 to 5, how funny is this joke?
Remember: Choosing a number means something:
5 - I love it
4 - I like it
3 - Not bad
2 - Ehhh...
1 - Nah....
Before you hit the I don't get it button, read this so the joke would become clear to you. After reading, respond to the poll both above and below.
Part 1
Rosalina threatens Bowser to turn him into stardust faster than the speed of sonic if he tries to kidnap her. Bowser tells her that he won't kidnap her and to take it easy.
Part 2
Luigi describes Rosalina in her scary look that she is like King Boo, Bowser, and Daisy combined into the scariest living thing in the Mushroom Kingdom. Daisy overhears this and become raging mad at Luigi for adding her as one of the things he is scared of.
At a scale of 1 to 3, how well do you get this joke?