Home
Talk

252
4,569pages on
this wiki
If music bothers you, please check the bottom of the page to turn off
Welcome to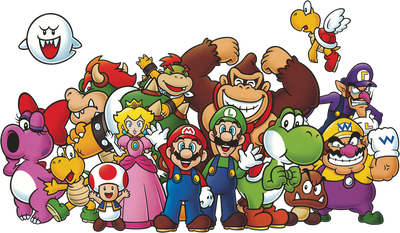 MarioWiki is a collaborative encyclopedia for everything related to the Mario series. There are 4,569 articles and growing since this wiki was founded in July 2007. The wiki format allows anyone to create or edit any article, so we can all work together to create a comprehensive database for the Mario series.
The MarioWiki community would love it if you'd join us in our Chat room for friendly conversation.
Attention! The Glitz Pit has been revived! Please vote on your character right away!
Attention! Puzzle Panic Fever is now in session! Have fun with solving word searches and other cool stuff!

Overview · Wiki tutorial · Help pages · Navigation
Featured Article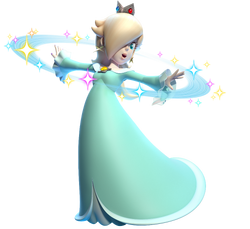 Rosalina is a major, reoccurring character that first appeared in Super Mario Galaxy as the main supporting character. She lives at the Comet Observatory with the Lumas. Rosalina's role is small in Super Mario Galaxy 2 where she sends Mario letters with a familiar image on them. She also appears in the form of Cosmic Spirits that will often aid Mario on his quest. Rosalina makes her full game appearance after completing the Daredevil Comet of the Grandmaster Galaxy and appears in the second ending of the game.
Other Appearances
Since her appearances since the Super Mario Galaxy games, Rosalina has grew to be a popular character appearing in games outside the Galaxy series. Rosalina has appeared as a playable character in Mario Kart Wii for the first time. She reappears in Mario Kart 7 and even has her own course in Rosalina's Ice World. Rosalina will go on to being one of the five playable characters in Super Mario 3D World using powerups for the first time. Rosalina is even set to appear in Mario Kart 8 and Super Smash Bros. 3DS/Wii U.
Past Featured Articles... Super Mario Bros. 3... Antasma... Compat-I-Com... Bowser... Hotel Mario... Ludwig von Koopa... Luigi's Mansion: Dark Moon... Mario Kart 8... Super Mario 3D World... Super Mario 64... Mario and Luigi: Dream Team... Deanna Mustard...

Reviews
By Iphoneorange
Date: 04/17/2014 Rating: 9.5/10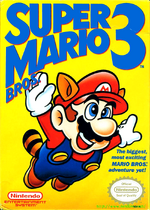 Certain games are good. Certain games are bad. This game however is just plain amazing. Being the third Mario game in the series, SMB3 kicks off the three-qual in the first world: Grass Land and ends up in Dark Land (and all the worlds in between). The gameplay is a simple platformer. The player moves around world maps selecting levels, castles, Mushroom houses and even Hammer Brothers. The game stars Mario and his trusty, but clumsy brother Luigi. The levels are quite simple, but get quite hard extremely fast. The music is amazing. So many catchy tunes, that'll stick in your head for hours. The game has a fun multiplayer mode and many surprises, such as Mushroom houses, castles or other interesting things. Overall, I love this game and deeply recommend it. But if you're interested in buying a format of this game, I recommend the GBA remake over this one. Still, a classic no doubt.

9.5/10 By Iphoneorange

Past reviews... Super Mario 64(beta) Review... Donkey Kong Review... Luigi's Mansion Review... Super Mario 64 Review... Paper Mario Review...
Affiliates
Donkey Kong Wiki is a wiki focused on things related to Donkey Kong and his game series! The wiki currently has over 900 articles! Help by contributing today!
Yoshi Wiki is a wiki focusing on everything related to Yoshi and the series! Please help us out here as it is still in process of being restored!
Mario Party Wiki is a wiki focusing on everything related to the Mario Party series! Please help us out here as it is still in process of being restored!

Smashipedia is a wiki all about the Smash Bros series. With over 1,000 pages, this is the ultimate Smash archive. Join today and help edit pages!
The Mario Kart Racing Wiki is the most archived and well organized Mario Kart Wiki created, with over 400 pages, and 600 photos. You should join today and help edit pages!
Forums
Joke of the Month
Credit goes to Jeremy★VAL for such an amazing joke!
Part 1
Part 2

---
Also, suggest a joke!
See previous joke results here!
On a scale of 1 to 5, how funny is this joke?
Remember: Choosing a number means something:
5 - I love it
4 - I like it
3 - Not bad
2 - Ehhh...
1 - Nah....
Before you hit the I don't get it button, read this so the joke would become clear to you. After reading, respond to the poll both above and below.
Part 1
Rosalina threatens Bowser to turn him into stardust faster than the speed of sonic if he tries to kidnap her. Bowser tells her that he won't kidnap her and to take it easy.
Part 2
Luigi describes Rosalina in her scary look that she is like King Boo, Bowser, and Daisy combined into the scariest living thing in the Mushroom Kingdom. Daisy overhears this and become raging mad at Luigi for adding her as one of the things he is scared of.
At a scale of 1 to 3, how well do you get this joke?
Featured Media
News
March 10, 2014

Lumoshi is elected to staff.

January 17, 2014

Users Dreb607 and User:JosephTheElite are elected to staff

December 1, 2013

MarioWiki reaches it's 4,000th article: Piranha Creeper Creek.

November 16th, 2013

The Glitz Pit was revived by ZeoSpark.

November 19, 2013

TheNewGuy01 and KamariU have been elected to staff.

September 23, 2013

Due to months of inactivity by other admins and bureaucrats, ZeoSpark adopts the wiki and becomes it's new bureaucrat.

May 23, 2013

Long-time bureaucrat Rainbowroad6w resigns from his position and Wattz2000 takes his place.
Monthly Poll
What is your favorite phrase?
---
Also, suggest a poll!
See previous poll results here!
Cleanup of the Month
Attention MarioWiki editors:
We are unfortunately in lack of many articles especially those video game series pages that need some. Check out Complete Series Articles for more.
Reminders
Please don't copy articles from other Wikis. While it is legal, we still have to write our own articles.
read more rules at the rules page.
Welcome new users! We are an ever growing community, and new users need to feel welcomed!
Visitors