Home
Talk

251
4,086pages on
this wiki
Welcome to


MarioWiki is a collaborative encyclopedia for everything related to the Mario series. There are 4,086 articles and growing since this wiki was founded in July 2007. The wiki format allows anyone to create or edit any article, so we can all work together to create a comprehensive database for the Mario series.
The MarioWiki community would love it if you'd join us in our Chat room for friendly conversation.
Attention! The Glitz Pit has been revived! Please vote on your character right away!

Overview · Wiki tutorial · Help pages · Navigation
Featured Article
Super Mario 3D World is the latest platformer game in the Super Mario 3D series. The game revolves around the newly added multiplayer and the cat suit/power-up. The game was announced at Nintendo Direct 2013 and was on demo at E3 2013. The game was released on November 22, 2013.
Multiplayer
Super Mario 3D World is the first game in the Super Mario 3D series to include multiplayer. Playable characters are Mario, Luigi, Peach, and Blue Toad. Their abilities are similar to those from the original Super Mario Bros. 2. Mario has the standard run and jump capability. Luigi jumps higher with a flutter kick. Peach can float in the air, and Blue Toad runs faster than the rest.
Characters

Past Featured Articles... Super Mario 64... Mario and Luigi: Dream Team... Deanna Mustard... Koopa Bros. Fortress... Mario Kart 7...

Reviews

By Iphoneorange
9.5/10
Donkey Kong is an amazing game, to this day! To be honest, I never played it until the year 2009, I believe. But the second I touched it, I loved it. And if you've never played it before, I think you'll really enjoy it. I think the controls are ok, levels are interesting, and graphics are good for the NES.
To be honest, this game only a few flaws in my oppionion: One is that it's so short. I believe there's only three levels in the entire game. At least that's how many were on my Virtual Console Download on my Nintendo Wii. The other one is that the controls could be better. Climbing ladders isn't as easy as it looks. Either way, this game isn't bad at all.
This was my first review, so I hope you enjoyed it. Thanks! :)
Past reviews... Luigi's Mansion Review... Super Mario 64 Review... Paper Mario Review...Super Mario Galaxy 2 Review...
Affiliates
Donkey Kong Wiki is a wiki focused on things related to Donkey Kong and his game series! The wiki currently has over 900 articles! Help by contributing today!


Yoshi Wiki is a wiki focusing on everything related to Yoshi and the series! Please help us out here as it is still in process of being restored!
Forums
Featured Media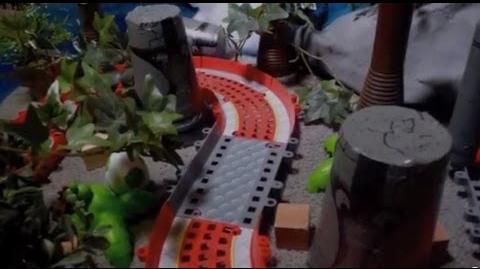 Watch the custom track, Deep Sea Ruins, by Knex Trackmaster!


Suggest a song/video at the Featured Media page.
News
December 1, 2013

MarioWiki reaches it's 4,000th article: Piranha Creeper Creek.

November 16th, 2013

The Glitz Pit was revived by ZeoSpark.

November 19, 2013

TheNewGuy01 and KamariU have been elected to staff.

September 23, 2013

Due to months of inactivity by other admins and bureaucrats, ZeoSpark adopts the wiki and becomes it's new bureaucrat.

May 23, 2013

Long-time bureaucrat Rainbowroad6w resigns from his position and Wattz2000 takes his place.
Monthly Poll
What's you're favorite Nintendo 3DS game?
Also, suggest a poll!
See previous poll results here!
Cleanup of the Month
Attention MarioWiki editors:
We are unfortunately in lack of many articles especially those video game series pages that need some. Check out Complete Series Articles for more.
Reminders
Please don't copy articles from other Wikis. While it is legal, we still have to write our own articles.
read more rules at the rules page.
Welcome new users! We are an ever growing community, and new users need to feel welcomed!
Visitors