Welcome to the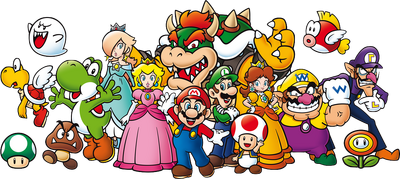 MarioWiki is a collaborative encyclopedia for everything related to the ever popular Mario series. There are 7,749 articles and growing since this wiki was founded in July 2007. The wiki format allows anyone to create or edit any article, so we can all work together to create a comprehensive database for the Mario series.
The MarioWiki community would love it if you'd join us in our Chat room for friendly conversation.
Overview · Wiki tutorial · Rules · Help pages · Navigation

Super Paper Mario
is a video game released for the
Nintendo Wii
and the third installment of the
Paper Mario
series. This game features
Mario
,
Luigi
,
Princess Peach
, and
Bowser
as the Heroes of Light trying to stop the holder of the
Dark Prognosticus
,
Count Bleck
, who aims to destroy all worlds.
Tippi
, one of the main characters, accomplices the heroes throughout their journey where they learn more of her backstory and how she is involved with Count Bleck himself.
Super Paper Mario is most notable for being the first Paper Mario game to break away from the series' traditional style. Instead of being mainly an RPG where Mario takes his turn first, then his partner, and finally the enemy/boss, now, this game is more of a platformer where Mario and others can defeat enemies without entering a form of a battle system. Another notable change is the complete removal of Star Points as now Mario and others can level up by scoring points. After earning a certain amount of points, they will gain either HP or attack power (the game automatically chooses which stat increases each time). Finally, another big change is the lack of true partners. Instead, the heroes have beings known as Pixls that mainly aid in solving puzzles and defeating certain enemies that cannot be defeated by normal means. This game is also most notable for being the first adventure game to feature the four main Mario characters (Mario, Luigi, Peach, and Bowser) all playable in one game.
See the main page for features articles...

Reviews
Date:30/12/18 Rating:9.5/10

If you don't have a console, you may have a device that you bring anywhere. You should buy Super Mario Run! Spoiler alert!—you may want to complete the whole game before reading my review. For people who does not know me, I am Derekblue1. We shall get started!
Super Mario Run is a side-scrolling platform game created by Nintendo. It features a recurring plot, everyone knows that Princess Peach was kidnapped by Bowser. Super Mario Run updates with special events for rewards. They have 33 courses that never fail to please players. We start with Mario who is automatically running while we tap the touchscreen for Mario to jump. He can do many tricks when tapping the touchscreen, there are eleven playable characters that can be unlocked. I like the fact that you can play music by tapping that Music Toad, watch your character listen with their headphones while playing the game.
Mario and Luigi are the only characters that start small while other characters start by their normal size. After Nintendo updated some characters, Yoshis, Princess Peach, Toadette and Daisy are the most useful characters. Every character has fair disadvantages in the game. Characters apart from Peach and Daisy can be unlocked by competing Toad Rallies and include their houses to their kingdom. Princess Peach must be rescued, which is not that hard. Daisy is in Area 30 and that is far away.
Past reviews... Mario Party DS Review... Mario Party 9 Review... Super Mario Galaxy Review... Mario Kart Wii Review... Mario & Luigi: Paper Jam Review... Mario Kart 8 Review... Super Mario Bros. 3 Review... Super Mario RPG: Legend of the Seven Stars Review... Super Mario 64(beta) Review... Donkey Kong Review... Luigi's Mansion Review... Super Mario 64 Review... Paper Mario Review...

Donkey Kong Wiki is a wiki focused on things related to Donkey Kong and his game series! The wiki currently has over 900 articles! Help by contributing today!
Yoshi Wiki is a wiki focusing on everything related to Yoshi and the series! Please help us out here as it is still in process of being restored!


Smashipedia is a wiki all about the Smash Bros series. With over 1,000 pages, this is the ultimate Smash archive. Join today and help edit pages!
The Mario Kart Racing Wiki is the most archived and well organized Mario Kart Wiki created, with over 400 pages, and 600 photos. You should join today and help edit pages!

Mario Party Wiki is a wiki focusing on everything related to the Mario Party series! Please help us out here as it is still in process of being restored!


...Rosalina was meant to be a guitarist in Super Mario Odyssey? Mario could have also wore the Luma costume as a choice.


January 11, 2019

New Super Mario Bros. U Deluxe was released worldwide.

March 8, 2018

MarioWiki reaches over 7,000 articles.

September 3, 2017

CoolKarim is elected to staff!

August 28, 2017

Derekblue1 is elected to staff!

July 15, 2017

MarioWiki turns 10 years old! Happy anniversary, MarioWiki!

May 31, 2017

MarioWiki reaches over 6,000 articles.

What is the best thing you believe about in Super Smash Bros. Ultimate?
---
Poll created by Derekblue1 and suggested by CoolKarim, make sure to request one and your poll could be picked! (polls are picked once a month)
Also, suggest a poll!
See previous poll results here!

Reminders
Please don't copy articles from other Wikis. While it is legal, we still have to write our own articles.
Don't bully or harass other users.
Don't upload off topic photos to gallaries, you can add them on your page.
read more rules at the rules page.
Welcome new users! We are an ever growing community, and new users need to feel welcomed!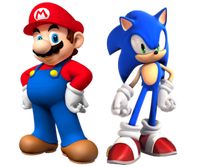 Language Wikis
The English Mario Wiki has other websites in different languages:
If you want to add some wikis to the directory, we will be happy to do so.
This template is shared with the other wikis as well.