Time to clean up Isle Delfino and articles!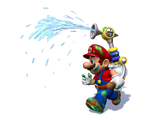 This article requires cleanup.
You can discuss this in the comments or edit this page to improve it.
A Koopa Troopa is a recurring enemy in the Mario series. They are turtle-like creatures who hide in their shells when someone stomps on their heads. The Koopa Troopa is the most common classification of Koopa. Koopa Troopas are often troopers in the Koopa Troop. Koopa Troopas come in four colors: Green, Red, Blue, and Yellow. If an enemy is referred to as just "Koopa," this usually means Koopa Troopa. The green Koopa Troopas are known to walk off cliffs and can't jump. another variant of them, still equally stupid, was the Giant Koopa
Appearances
Mario Bros.
Koopa Troopas did not appear in
Mario Bros.
, but enemies called
Shellcreepers
resemble them. In all remakes, they are replaced by
Spinies
.
Super Mario Bros.
In Super Mario Bros., they were renamed "Koopa Troopa", and Koopa Paratroopas made their debut. They can be used as projectiles after they retreat into their shells. Green Koopas simply walked forwards, turning around if they encountered a wall or another enemy, and if they reached a ledge, would walk straight off, even into a bottomless pit. Red Koopas were mentioned in the manual as being more powerful than their green counterparts. In the game, this meant they had the sense not to walk off edges.
Super Mario Bros. 3
In Super Mario Bros. 3, Koopa Troopas have generally stayed the same as in Super Mario Bros. One thing that changed was, when they return to their shells, they can be carried and kicked away to destroy blocks or hit enemies. Koopa Troopas in their shells could be carried into the air as well.
Super Mario World
Super Mario World brought drastic changes to the Koopa Troopa. In this game, Koopa Troopas finally started walking on two legs and wearing shoes. Also, like in Mario Bros., stomping on Koopas ejects them from their shells rather than causing them to hide. An ejected Koopa will slide out of its shell, wearing only a t-shirt, and will crawl back to its shell after being temporarily stunned. Their shells can still be carried. The game also featured Blue and Yellow Koopas. A Koopa that reentered a yellow shell would flash and turns invincible against certain of Mario abilities, such as fireballs and normal jumps, and he will chase after Mario, sliding around inside the shell. The blue Koopa appears to be stronger than the other ones as he is ejected from his shell, and unlike the other Koopas, he doesn't enter again in his shell, but he grabs it and kicks it like Mario does instead. If Yoshi ate a Red, Blue, or Yellow shell, he would gain a different ability until he swallowed or spit the shell out. Eating a flashing shell gave all three abilities at the same time. When the player finds or completes all goals, a different shell will appear on Koopa Troopas. The game also introduces the Super Koopas, that use no shell and fly with a cape towards Mario. If a player stomps on a Super Koopa with a flashing cape, he gains a Cape Feather
Super Mario 64
In Super Mario 64, Koopa Troopas wear boxers after being knocked out. Their shells can be used as skateboards and even slide over lava. Koopa Troopas in this game appear in various sizes, as exemplified by Koopa the Quick.
Paper Mario
Koopa Troopa

A Koopa Troopa
HP
4
Attack
1 (Shell Toss)
Defense
1
The Paper Mario series introduces friendly Koopas that have their own towns, such as Kooper, Koops, etc. However, it also introduced some pretty evil Koopas, such as the Koopa Bros. and Tutankoopa. Other forms of Koopas, such as the Koopatrols and the giant Tubba Blubba. Others are Hammer Bros., Lakitu, etc. But, Koopas are nice sometimes. An example of such a Koopa is Koopa the Quick, first appearing in Super Mario 64, who races the player in Bob-omb Battlefield and Tiny-Huge Island. Generic Koopa Troopas have also appeared throughout the Mario Party series as NPCs. Like Toad, they are generally helpful towards the players, usually providing them with rewards or running mini-games.
Tattle
This is a Koopa Trooopa. Everybody knows Koopa Troopas. They're Bowser's followers.
Max HP: 4, Attack Power: 1, Defense Power: 1 Their shells are hard.
If you can flip 'em over, their defense power will fall to 0 and it will become much easier for you to defeat 'em.
You can flip 'em with a POW Block or a Jump attack.
Super Paper Mario
In Super Paper Mario, green shelled Koopas wearing shades are introduced rather than the red shelled ones. It is also shown that the Koopa Troopas that are wearing the shades have been brainwashed into serving Count Bleck.
New Super Mario Bros.
In New Super Mario Bros. they are basically the same as in Super Mario World, they walk on two legs, the wear shoes and can still be carried. Both green and red Koopa Troopas appear and have the same functions as in the other games. The Blue Koopa Shell appears as a power-up in the multi player Ice stage. They can also be used as flotation devices in water.
Super Mario Galaxy

In Super Mario Galaxy, they are semi-common enemies found mostly on the airship levels. Strangely enough, they are shown walking on all fours, like in SMB and SMB3, and always show an angry-looking expression. They did not flee from Mario like in Super Mario 64 and instead patrolled a set area; which was a straight line for Green Koopa Troopas and a small circle for Red Koopa Troopas.
Also, unlike in Super Mario 64, Koopa Troopas can actually hurt Mario in this game. As usual, jumping on a Koopa will cause it to retreat into its shell, but they can be defeated permanently by attacking with a Ground Pound. Attacking with a spin will defeat the Koopa and also spin the shell into Mario's hands so it can be used. In some areas, upon defeating a Koopa, another Koopa will spawn in its place.
Koopa shells also appear as common items which can be thrown to defeat enemies and smash open chests or held onto underwater in order to swim faster; red shells travel faster than green shells and home in on enemies, while the green shell go in a straight trajectory.
Mario Spin-offs
Single Koopa Troopas have been playable in Mario Kart games and various other sport games along with Paratroopas. In Mario Kart: Double Dash!!, the Koopa Troopa's signature item were Triple Green Shells, while the Paratroopa's signature item were Triple Red Shells. Koopa Troopa shells, either Green or Red, are available as items and have different abilities.
Mario Party series
Mario Party
In Mario Party, Koopa stands in the beginning of each board and when players pass him he gives them money.
Mario Party 2 and Mario Party 3
Koopa's role in both 2 & 3 is the owner of the Koopa Bank/. When a player passes by the Bank, Koopa takes 5 coins from that player. If less than 5, Koopa would take all of the remaining coins. If a player lands on the Bank Space, Koopa would give all the coins of the bank to that player.
In Mario Party 3, Koopa is a partner in Duel Mode. He has low attacks, low defense and low salary.
Mario Party 4
In Mario Party 4, Koopa became the host of the show alongside Toad, Goomba, Shy Guy, and Boo.
Mario Party 5
In Mario Party 5, Koopa appears as a Bank owner and the star of the mini-game Flower Shower, where he got married with a female Koopa.
Mario Party 8
Koopa also had a board in Mario Party 8 that was named Koopa's Tycoon Town. There were Koopa bellhops standing in front of hotels, and asked the players to buy their hotel with coins. When a player landed on a lucky space, a Koopa Driver appeared, and took the player to the lucky road, where the player could collect coins and buy a 3-Star hotel for only 1 coin. Multiple Koopas also appeared on the Train and in crowds.
Mario Party 9
Koopa appears for the first time as a main playable character, selectable from the beginning of the game.
Mario Party 10
Koopa Troopas appear in Mario Party 10 as non-playable characters, appearing in the background of the mini-game Shy Guy Shuffle.
Mario Kart series
Koopa Troopa first appeared in Super Mario Kart. He then later re-appeared in Mario Kart: Double Dash!! and in Mario Kart Wii. He is a standard character in every game he has appeared in. In Super Mario Kart he shared racing characteristics with Toad as a beginner's racer with top-notch handling. In Mario Kart: Double Dash!! and Mario Kart Wii he is classified as a light type character. Koopa Troopa is set to appear in Mario Kart 7 as a playable character.
Staff Ghost Tracks
Gallery
Sprites
Trivia
Koopa Troopas made a cameo appearance in the NES game Zoda's Revenge: Startropics II. In the game a man delivers a pizza to the protagonist, Mike Jones while riding a Koopa Troopa.
Although Koopa Troopas did not appear in the Super Mario Bros. (film), the Goombas in the film were originally going to be called Koopa's Troopas, as shown in official artwork.[1]
Golden Koopa Troopas didn't appear until New Super Mario Bros. 2 in 2012, but a golden Koopa shell appeared prior in Super Mario Galaxy (2007).
As shown in Super Mario World, Koopa Troopas can not only survive without their shells, but actually wear clothing underneath them.
Koopas are really well-known because of their shells, since the shell has appeared as items in Mario Kart.
There are some rumors indicating that Koopas are killed of two hits. Actually it only takes one, as seen in World & 64.
References
Navigation Templates
Characters
Protagonists
Mario • Princess Peach • Luigi • Twink • Star Spirits (Eldstar, Mamar, Skolar, Muskular, Misstar, Klevar, Kalmar)
Antagonists
Bowser • Kammy Koopa • Koopa Troop • Jr. Troopa
Partners
Goombario • Kooper • Bombette • Parakarry • Lady Bow • Watt • Sushie • Lakilester
Other Characters
Albino Dino • Audience • Bootler • Bruce • Bubble Plant • Chanterelle • Chet Rippo • Chuck Quizmo • Club 64 Bartender • Dane T. • DJ Toad • Fearsome 5 • Fice T. • Fishmael • Flight • Franky • Frost T. • Gooma • Goomama • Goombaria • Goompa • Goompapa • Gourmet Guy • Guard Door • Harry T. • Herbert • Herringway • Igor • King Mousta • Kooper's mother • Kolorado • Kolorado's Wife • Koopa Koot • Koover • Lakilulu • Lily • Little Mouser • Little T. • Luigi • Madam Merlar • Master Poet • Mayor Penguin • Mayor Penguin's Wife • Merle • Merlee • Merlon • Merlow • Merluvlee • Minh T. • Mini T. • Moustafa • Mort T. • Mr. E • Mr. Hammer • Muss T. • Nomadimouse • Oaklie • Penguin Patrol • Petunia • Posie • Postmaster • Raphael the Raven • Rip Cheato • Rosie • Rowf • Rhuff • Russ T. • Sashimie • Spiky John • Spiky Tom • Stanley • Sun • Tayce T. • Three Beautiful Sisters • Toad in the Desert • Toad Minister • Tolielip • Trading Event Toad • Vanna T. • Village Leader • Watt's mother • Whacka • Whale • Wise Wisterwood • Yakkey
Species
Raven • Toad • Ninji • Star Kid • Shaman
Locations
Areas
Mario's House • Toad Town • Princess Peach's Castle • Bowser's Castle • Goomba Village • Jr. Troopa's Playground • Goomba Road • Pleasant Path • Koopa Village • Koopa Bros. Fortress • Mt. Rugged • Dry Dry Desert • Dry Dry Outpost • Dry Dry Ruins • Forever Forest • Boo's Mansion • Windy Mill • Gusty Gulch • Tubba Blubba's Castle • Shy Guy's Toy Box • Lavalava Island • Jade Jungle • Mt. Lavalava • Flower Fields • Cloudy Climb • Shiver Region • Shiver City • Shiver Mountain • Crystal Palace • Toad Town Tunnels • Path to Shooting Star Summit • Shooting Star Summit • Star Road • Starborn Valley • Star Haven • The Dojo • Club 64 • Item Shop (Shroom Grocery, Harry's Shop, Koopa's Shop, Little Mouser's Shop, Boo's Shop, Yoshi's Cabana, Shiver Shop, Star Haven Shop, Bowser's Castle Shop)
Other
K64 • Playroom • Li'l-Oink Farm
Bosses
Main/Recurring Bosses
Bowser • Kammy Koopa • Jr. Troopa
Chapter Bosses
Goomba King • Bowser??? • Koopa Bros. (Red Ninjakoopa, Black Ninjakoopa, Yellow Ninjakoopa, Green Ninjakoopa) • Tutankoopa • Tubba Blubba/Tubba Blubba's Heart • General Guy • Lava Piranha/Lava Bud • Huff N. Puff • Crystal King/Crystal Bit • Bowser
Mini Bosses
Red and Blue Goombas • Buzzar • Anti Guy • Blooper • Super Blooper • Electro Blooper • Spike??? • Kent C. Koopa • The Master • Monstar
Enemies
Enemies
Amazy Dayzee • Bandit • Bill Blaster • Bob-omb • Bombshell Bill • Bombshell Bill Blaster • Bony Beetle • Bullet Bill • Buzzy Beetle • Bzzap! • Cleft • Clubba • Crazee Dayzee • Dark Koopa • Dry Bones • Duplighost • Ember • Forest Fuzzy • Frost Piranha • Fuzzy • Gloomba • Goomba • Gray Magikoopa • Green Magikoopa • Groove Guy • Gulpit • Hammer Bros. • Hurt Plant • Hyper Cleft • Hyper Goomba • Hyper Paragoomba • Jungle Fuzzy • Koopatrol • Koopa Troopa • Lakitu • Lava Bubble • Magikoopa • M. Bush • Medi Guy • Monty Mole • Paragloomba • Paragoomba • Paratroopa • Piranha Plant • Pokey • Pokey Mummy • Putrid Piranha • Pyro Guy • Red Magikoopa • Ruff Puff • Shy Guy • Shy Squad • Shy Stack • Spear Guy • Spiked Gloomba • Spiked Goomba • Spike Top • Spiny • Spy Guy • Swooper • Swoopula • White Clubba • White Magikoopa • Yellow Magikoopa
Items
Regular Items
Apple • Blue Berry • Bubble Berry • Coconut • Dizzy Dial • Dried Fruit • Dried Shroom • Dusty Hammer • Egg • Fire Flower • Fright Jar • Goomnut • Honey Syrup • Iced Potato • Jammin' Jelly • Koopa Leaf • Lemon • Life Shroom • Lime • Maple Syrup • Melon • Mushroom • Mystery? • Pebble • POW Block • Red Berry • Repel Gel • Shooting Star • Sleepy Sheep • Snowman Doll • Stinky Herb • Stone Cap • Strange Leaf • Stop Watch • Super Shroom • Super Soda • Tasty Tonic • Thunder Bolt • Thunder Rage • Ultra Shroom • Volt Shroom • Whacka Bump • Yellow Berry
Key Items
Artifact • Autograph • Blue Key • Boo's Portrait • Bucket • Calculator • Castle Key • Cookbook • Crystal Ball • Crystal Berry • Diamond Stone • Dictionary • Diploma • Dolly • Empty Wallet • Fertile Soil • First Degree Card • Fortress Key • Fourth Degree Card • Frying Pan • Glasses • Hammer • Jade Raven • Koopa Legends • Kooper's Shell • Letter • Lucky Star • Lunar Stone • Lyrics • Magical Bean • Magical Seed • Mailbag • Melody • Miracle Water • Mystery Note • Odd Key • Old Photo • Package • Palace Key • Prison Key • Pulse Stone • Pyramid Stone • Record • Red Jar • Ruins Key • Scarf • Second Degree Card • Silver Card • Sneaky Parasol • Star Stone • Storeroom Key • Tape • Third Degree Card • Toy Train • Ultra Stone • Volcano Vase • Warehouse Key • Water Stone • Weight • Yakkey
Recipes
Apple Pie • Big Cookie • Bland Meal • Boiled Egg • Cake • Coco Pop • Deluxe Feast • Dizzy Dial • Egg Missile • Electro Pop • Fire Flower • Fire Pop • Fried Egg • Fried Shroom • Frozen Fries • Healthy Juice • Honey Shroom • Honey Super • Honey Ultra • Hot Shroom • Jelly Pop • Jelly Shroom • Jelly Super • Jelly Ultra • Kooky Cookie • Koopa Tea • Koopasta • Lemon Candy • Life Shroom • Lime Candy • Maple Shroom • Maple Super • Maple Ultra • Nutty Cake • Potato Salad • Shroom Cake • Shroom Steak • Sleepy Sheep • Spaghetti • Special Shake • Spicy Soup • Strange Cake • Super Soda • Sweet Shroom • Tasty Tonic • Thunder Rage • Volt Shroom • Yoshi Cookie • Yummy Meal
Badges
Power Jump • Mega Jump • Shrink Stomp • Multibounce • Jump Charge • S. Jump Charge • Sleep Stomp • Dizzy Stomp • D-Down Jump • Power Bounce • Power Smash • Mega Smash • Smash Charge • S. Smash Charge • Spin Smash • Quake Hammer • Power Quake • Mega Quake • Hammer Throw • D-Down Pound • Double Dip • Triple Dip • Group Focus • Quick Change • Peekaboo • Dodge Master • Happy Heart • Happy Flower • Deep Focus • HP Plus • FP Plus • Flower Saver • Power Plus • Defend Plus • Damage Dodge • P-Down, D-Up • P-Up, D-Down • HP Drain • All or Nothing • Mega Rush • Last Stand • Power Rush • Close Call • Pretty Lucky • Lucky Day • Ice Power • Fire Shield • Spike Shield • Feeling Fine • Zap Tap • Heart Finder • Runaway Pay • Refund • Money Money • Pay-Off • I Spy • Chill Out • Speedy Spin • Dizzy Attack • Spin Attack • First Attack • Bump Attack • Slow Go • Attack FX A • Attack FX B • Attack FX C • Attack FX D • Attack FX E
Techniques
Partner Moves
Headbonk • Tattle • Charge • Multibonk • Shell Toss • Power Shell • Dizzy Shell • Fire Shell • Sky Dive • Shell Shot • Air Lift • Air Raid • Body Slam • Bomb • Power Bomb • Mega Bomb • Smack • Outta Sight • Spook • Fan Smack • Electro Dash • Power Shock • Turbo Charge • Mega Shock • Belly Flop • Squirt • Water Block • Tidal Wave • Spiny Flip • Spiny Surge • Cloud Nine • Hurricane
Special Moves
Refresh • Lullaby • Star Storm • Chill Out • Smooch • Time Out • Up & Away • Star Beam/Peach Beam
Enemy/Boss Moves
Charge • Divide and Conquer
Miscellaneous
Features
Super Block • Playroom • Bowser's Diary • Luigi's Diary • Save Block
Terms
Level Up • First Strike • Heart Point • Flower Point • Badge Point • Star Power • Game Over • Super Rank • Ultra Rank
Other
Soundtrack • Tattle List • Walkthrough
Ad blocker interference detected!
Wikia is a free-to-use site that makes money from advertising. We have a modified experience for viewers using ad blockers

Wikia is not accessible if you've made further modifications. Remove the custom ad blocker rule(s) and the page will load as expected.