Game Boy Advance


The transparent model for the Game Boy Advance.
Manufacturer
Nintendo
Released
March 21, 2001
June 11, 2001
Jne 22, 2001

Predecessor
Game Boy Color
Successor
Nintendo DS
The Game Boy Advance is the fourth game system in the Game Boy line, and is the successor to the Game Boy Color. The system was released in 2001 and discontinued in 2008. Being more powerful than the Super Nintendo Entertainment System, the Game Boy Advance is a 32-bit console.
Variations
Game Boy Advance SP
The Game Boy Advance SP is an upgrade to the Game Boy Advance. It had a new design, with a clamshell style, and had a front-and-back-lit screen. It also came with a rechargeable battery, instead of having to put in double AAs. It is also backwards compatible, able to play Game Boy and Game Boy Color games.
Game Boy Micro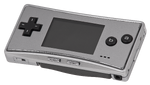 The Game Boy Micro is the third design of the Game Boy Advance. At a size of only four inches wide, two inches tall, less than an inch deep, and a weight of 2.8 ounces, it is smaller than any other system in the Game Boy line. It's screen is slightly smaller than that of the Game Boy Advance and SP, but it maintains the same resolution. Unlike its predecessor, it is not backwards compatible. It comes with a backlight for playing in the dark.