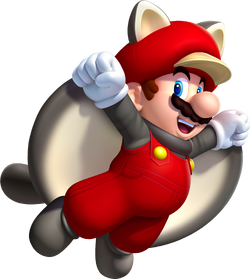 Flying Squirrel Mario is a new transformation in New Super Mario Bros. U. This new transformation can be obtained by getting the Super Acorn and can be used by any character.
Flying Squirrel Mario allows characters to jump and fly, slowly descending until landing on the ground, much like Propeller Mario (which is used by getting a Propeller Suit), and when holding a Propeller Block in New Super Mario Bros. Wii. It also allows players to cling to walls.
Ad blocker interference detected!
Wikia is a free-to-use site that makes money from advertising. We have a modified experience for viewers using ad blockers

Wikia is not accessible if you've made further modifications. Remove the custom ad blocker rule(s) and the page will load as expected.