Choco Island 2 is the second course in Star Cup in Super Mario Kart. This version is harder. It is similar to Choco Island 1, but has bigger puddles of mud (or chocolate) than the first one, along with shard turns, narrow roads, and bumps. Because of this, heavy characters with heavy karts should not race on this course, for it would be hard. Not only this, but again, Piranha Plants are scattered across the course, along with the dark ground which will slow the player down.
Mario Kart DS Version
The course reappears as a track in Lightning Cup in Mario Kart DS. In this version, the course is completely the same, just graphically updated. With this course being so hard, if a mistake is made, trying to recover from it is hard, knowing that the laps are short and that now there are 3 laps in the course (unlike the original, where there were 5).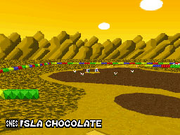 Ad blocker interference detected!
Wikia is a free-to-use site that makes money from advertising. We have a modified experience for viewers using ad blockers

Wikia is not accessible if you've made further modifications. Remove the custom ad blocker rule(s) and the page will load as expected.