Ad blocker interference detected!
Wikia is a free-to-use site that makes money from advertising. We have a modified experience for viewers using ad blockers

Wikia is not accessible if you've made further modifications. Remove the custom ad blocker rule(s) and the page will load as expected.
Red links alert! They will be fixed!


The following article contains broken links.
The broken links on the page will be created soon.
Bloopers (also known as Bloobers in earlier games) are white squid-like beings that roam the water-infested areas of the Mushroom World, Sometimes even flying around the areas of the Mushroom World near water areas. Later games would give Bloopers a multitude of powers, including flight and the ability to expel ink and electricity.
Large Bloopers occasionally appear as bosses in various games, notable examples being King Calamari, Gooper Blooper and Big Blooper. Though usually depicted as antagonists, Blooper occasionally have other roles, such as items and as a playable character.
History
Super Mario series
Super Mario Bros.
Bloopers mark their first appearance in Super Mario Bros. as water-infested enemies. These enemies appear to lack the ability to touch the ground and when touched, Mario or Luigi becomes injured. They can be defeated with fireballs or Starman.
In the Super Mario All-Stars remake, all Bloopers changed from white to pink and are found in more concealed areas.
Super Mario Bros.: The Lost Levels
These enemies reappear in a usual condition in Super Mario Bros.: The Lost Levels, but now has an odd pink coloration species that can float throughout the air much like regular Bloopers do in the water. They are worth 1000 points if defeated. Unlike the white Bloopers, they can be jumped on, due to being outside.
Super Mario Bros. 3
Bloopers reappear in Super Mario Bros. 3. They act the same as they did in Super Mario Bros. and have similar-looking species called Blooper Nannies which guide their young around.
Super Mario Sunshine
These enemies yet make another appearance in Super Mario Sunshine and, this time, are able to go on land and spit goop at Mario. They are only found on land, but not underwater strangely. They disappear in a puff of smoke when falling in the water, despite being water creatures. They cannot be defeated by F.L.U.D.D., but are stunned temporarily by him and release a coin when Mario jumps on them as they become defeated.
A new sub-species, Jumping Blooper, appears in this game. Bloopers are also only found in Noki Bay and Ricco Harbor.
New Super Mario Bros.
Bloopers reappear in New Super Mario Bros. where they act the same as usual and are only found in World 3-3.
Super Mario Galaxy
Bloopers yet make another appearance in Super Mario Galaxy and behave the same as usual, but, when chasing Mario, they swim in an irregular sort of way. They cannot be jumped on, but can be defeated with a Koopa Shell or a spin. They release ink when attacking Mario. They appear in Buoy Base Galaxy and Deep Dark Galaxy.
New Super Mario Bros. Wii
Bloopers appear in New Super Mario Bros. Wii and act the same as usual, but have a new tactic; they hide in pipes and instantly come out when the player is coming. They also are immune to ice as they immediately break free from the ice when shot at them. They are found in World 4-4 and World 8-4.
Super Mario Galaxy 2
Bloopers reappear in Super Mario Galaxy 2. They appear only in Starshine Beach Galaxy and act the same as they did in Super Mario Galaxy.
Mario Party series
Mario Party
Bloopers appear in Mario Party where it appears in the minigames Mushroom Mix-Up, Bumper Balls and Bombs Away. In all three minigames, Blooper tries to overtake anyone entering the water.
Mario Party 2
Bloopers make a cameo in this game by helping players out by taking them out of the ocean in some minigames.
Mario Party 3
Bloopers reappear in Mario Party 3 in the board Deep Blooper Sea where they send players around the board randomly.
Mario Party 6
Bloopers also appear in Mario Party 6 in the minigame Blooper Scooper. Here, players have to avoid the whirlpool the giant Blooper is creating.
Mario Party Advance
Blooper also appears in Mario Party Advance as one of the characters appearing on the Mushroom Beacon where he challenges the player to the minigame Hammergeddon. He is the victim for pulling Shroomlock off the cliff in Sushi Cliff. Out of questioning Cheep-Cheep and Dolphin too, Blooper is the one who has done it, but apologizes afterwards.
Mario Party DS
Blooper is briefly mentioned in Mario Party DS when Kamek states that he got his ink from a Blooper.
Mario Party 8
In Mario Party 8, Blooper is a playable character, unlocked by completing the Star Arena Mode and having Blooper as the opponent in Bowser's Warped Orbit. Blooper is a minion, helping Bowser defeat the player. In the game, Blooper floats like Boo and uses two of his tentacles as arms. Sometimes however, Hammer Bro. is faced and unlocked instead and the star arena must be replayed with him to get Blooper.
Mario & Luigi: Dream Team
In Mario & Luigi: Dream Team, Bloopers are only fought in new enemies called Bloopurns. The Bloopurns release at least three Bloopers per attack where Mario has to either jump over them or hammer them back.
Mario Kart series
The Blooper appears as an item in both Mario Kart DS and Mario Kart Wii. When a character gets this item from an Item Box, it floats in front of the opponents and dispels ink to distort their view. During online play, this item is considered a poor item to receive as many players can drive considerably well with the ink.
Blooper also appears in Mario Kart 7 and 'Mario Kart 8 as an item in the game, acting the same with no differences from the previous Mario Kart games.
Paper Mario series
Paper Mario
In Paper Mario, when Mario and his party traverse the Toad Town Tunnels, they find three different Bloopers. In the three locations where Mario finds the bloopers, however, doing so may make him explore the sewers later on in the game. The bloopers, regardless of where they were fought, are always fought in the same order. A small, regular-sized Blooper is the first blooper Mario and his party face. The second is a larger, Electro Blooper, which as the name suggests, uses electric powers. The third and final Blooper is a gargantuan Super Blooper which during the fight makes baby Bloopers to aid it in battle. Each Blooper's location, upon the defeat of each respective Blooper, rewards Mario. One of these locations will give Mario access to Warp Pipes that lead to Goomba Village, Dry Dry Outpost, and Koopa Village respectively. Another location will give Mario access to a Warp Pipe leading to Yoshi Village. The other location will give Mario the Sleepy Stomp badge.
Paper Mario: The Thousand-Year Door
In Paper Mario: The Thousand-Year Door, Mario and Goombella find a Blooper on their way through Rogueport Sewers on their way to Petal Meadows.
Super Paper Mario
A Blooper appears as a boss in World 3-2 in Super Paper Mario.Here you have to hit a red tentacle several times to defeat it.Bloopers also appear throughout the level.
Paper Mario: Sticker Star
In Paper Mario: Sticker Star, Bloopers themselves don't appear but only as Poison Bloopers lead by Gooper Blooper in this game. They are only found in World 3 and they play a big role in the pollution of that level. After Mario defeats Gooper Blooper, the World is no longer polluted and the Poison Bloopers cannot be fought again ever.
Super Smash Bros. series
Super Smash Bros. Brawl
Blooper also appears in Super Smash Bros. Brawl as an unlockable trophy. His description said: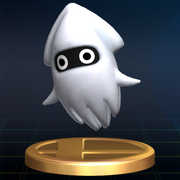 "A creatures who's as squid-like as a squid can be. Bloopers patrol water stages, and with no notable weapons, their threat comes from their unique movements and speed. Some flying bloopers display the same underwater movement above water. Blooper appeared for the first time as a playable character in Mario Party 8."
NES Super Mario Bros.
Wii Mario Party 8
In other media
The Super Mario Bros. Super Show!
The first appearance of Bloopers outside video games was in the anime film Super Mario Bros.: Peach-Hime Kyushutsu Dai Sakusen!, where a giant Blooper appears inhabiting a sunken ship. Bloopers also regularly appear in The Super Mario Bros. Super Show! and The Adventures of Super Mario Bros. 3 as enemy creatures, most commonly in episodes dealing with an underwater theme.
Splatoon
Hidden in various places, 8 bit Bloopers (and Octorocks from The Legend of Zelda) can be found.
Tag Team Names
Mario - 'Stache Splashers
Luigi - Blooper Scoopers
Peach - Royal Flush
Yoshi - Double Dippers
Wario - Drenched Stench
Daisy - Bloopsie-Daisy
Waluigi - Bloop'n'Snoop
Toad - Spray Players
Boo - Creature Feature
Toadette - Bloop-dee-do
Birdo - What-the-Bloop
Dry Bones - Two-Toned Duo
Hammer Bro. - Blooper Bros.
Gallery
Trivia
Navigation Templates
Characters
Protagonists
Mario • Princess Peach • Luigi • Twink • Star Spirits (Eldstar, Mamar, Skolar, Muskular, Misstar, Klevar, Kalmar)
Antagonists
Bowser • Kammy Koopa • Koopa Troop • Jr. Troopa
Partners
Goombario • Kooper • Bombette • Parakarry • Lady Bow • Watt • Sushie • Lakilester
Other Characters
Goomba Family (Goompa, Goomama, Goompapa, Gooma, Goombaria) • Toads • Russ T. • Tayce T. • Merlon • Minh T. • Moustafa • Rowf • Gourmet Guy • Yoshis (The Fearsome Five) • Wise Wisterwood • Chet Rippo • Raphael the Raven • The Master • Lee • Chan • Yoshi Chief • Kolorado • Kolorado's Wife • Koopa Koot • Chuck Quizmo • Gate Flowers • Fice T. • Oaklie • Whacka • Chanterelle • Club 64 Bartender • Herringway • Lakilulu • Lily • Master Poet • Mayor Penguin • Mayor Penguin's Wife • Merlar • Merle • Merlee • Merlow • Merluvlee • Nomadimouse • Penguin Police Chief • Petunia • Posie • Postmaster • Radio Contest Toad • Rip Cheato • Sun • Tolielip • Vanna T. • Fuzzipede • Bootler • Harry
Species
Raven • Toad • Ninji • Star Kid • Shaman
Locations
Areas
Mario's House • Toad Town • Princess Peach's Castle • Bowser's Castle • Goomba Village • Goomba Road • Pleasant Path • Koopa Village • Koopa Bros. Fortress • Mt. Rugged • Dry Dry Desert • Dry Dry Outpost • Dry Dry Ruins • Forever Forest • Boo's Mansion • Gusty Gulch • Tubba Blubba's Castle • Shy Guy's Toy Box • Lavalava Island • Jade Jungle • Mt. Lavalava • Flower Fields • Cloudy Climb • Shiver Region • Shiver City • Shiver Mountain • Crystal Palace • Toad Town Tunnels • Path to Shooting Star Summit • Shooting Star Summit • Star Road • Starborn Valley • Star Haven • The Dojo • Club 64 • Item Shop (Shroom Grocery, Harry's Shop, Koopa's Shop, Little Mouser's Shop, Boo's Shop, Yoshi's Cabana, Shiver Shop, Star Haven Shop, Bowser's Castle Shop)
Transportations
K64 • Tuna • Koopa Clown Car • Toy Train
Bosses
Main/Recurring Bosses
Bowser • Kammy Koopa • Jr. Troopa
Chapter Bosses
Goomba King • Bowser??? • Koopa Bros. (Red Ninjakoopa, Black Ninjakoopa, Yellow Ninjakoopa, Green Ninjakoopa) • Tutankoopa • Tubba Blubba/Tubba Blubba's Heart • General Guy • Lava Piranha/Lava Bud • Huff N. Puff • Crystal King/Crystal Bit • Bowser
Mini Bosses
Red and Blue Goombas • Buzzar • Anti Guy • Blooper • Super Blooper • Electro Blooper • Spike??? • Kent C. Koopa • The Master • Monstar
Enemies
Enemies
Amazy Dayzee • Bandit • Bill Blaster • Bob-omb • Bombshell Bill • Bombshell Bill Blaster • Bony Beetle • Bullet Bill • Buzzy Beetle • Bzzap! • Cleft • Clubba • Crazee Dayzee • Dark Koopa • Dry Bones • Duplighost • Ember • Forest Fuzzy • Frost Piranha • Fuzzy • Gloomba • Goomba • Gray Magikoopa • Green Magikoopa • Groove Guy • Gulpit • Hammer Bros. • Hurt Plant • Hyper Cleft • Hyper Goomba • Hyper Paragoomba • Jungle Fuzzy • Koopatrol • Koopa Troopa • Lakitu • Lava Bubble • Magikoopa • M. Bush • Medi Guy • Monty Mole • Paragloomba • Paragoomba • Paratroopa • Piranha Plant • Pokey • Pokey Mummy • Putrid Piranha • Pyro Guy • Red Magikoopa • Ruff Puff • Shy Guy • Shy Squad • Shy Stack • Spear Guy • Spiked Gloomba • Spiked Goomba • Spike Top • Spiny • Spy Guy • Swooper • Swoopula • White Clubba • White Magikoopa • Yellow Magikoopa
Items
Regular Items
Apple • Blue Berry • Bubble Berry • Coconut • Dizzy Dial • Dried Fruit • Dried Shroom • Dusty Hammer • Egg • Fire Flower • Fright Jar • Goomnut • Honey Syrup • Iced Potato • Jammin' Jelly • Koopa Leaf • Lemon • Life Shroom • Lime • Maple Syrup • Melon • Mushroom • Mystery? • Pebble • POW Block • Red Berry • Repel Gel • Shooting Star • Sleepy Sheep • Snowman Doll • Stinky Herb • Stone Cap • Strange Leaf • Stop Watch • Super Shroom • Super Soda • Tasty Tonic • Thunder Bolt • Thunder Rage • Ultra Shroom • Volt Shroom • Whacka Bump • Yellow Berry
Key Items
Artifact • Autograph • Blue Key • Boo's Portrait • Bucket • Calculator • Castle Key • Cookbook • Crystal Ball • Crystal Berry • Diamond Stone • Diploma • Dolly • Empty Wallet • Fertile Soil • First Degree Card • Fortress Key • Fourth Degree Card • Frying Pan • Glasses • Gold Card • Hammer • Jade Raven • Koopa Legends • Kooper's Shell • Letter • Lucky Star • Lunar Stone • Lyrics • Magical Bean • Magical Seed • Mailbag • Melody • Miracle Water • Mystery Note • Odd Key • Old Photo • Package • Palace Key • Prison Key • Pulse Stone • Pyramid Stone • Record • Red Jar • Ruins Key • Scarf • Second Degree Card • Silver Card • Star Stone • Storeroom Key • Tape • Third Degree Card • Toy Train • Ultra Stone • Volcano Vase • Warehouse Key • Water Stone • Weight • Yakkey
Recipes
Apple Pie • Big Cookie • Bland Meal • Boiled Egg • Cake • Coco Pop • Deluxe Feast • Dizzy Dial • Egg Missile • Electro Pop • Fire Flower • Fire Pop • Fried Egg • Fried Shroom • Frozen Fries • Healthy Juice • Honey Shroom • Honey Super • Honey Ultra • Hot Shroom • Jelly Pop • Jelly Shroom • Jelly Ultra • Kooky Cookie • Koopa Tea • Koopasta • Lemon Candy • Life Shroom • Lime Candy • Maple Shroom • Maple Super • Maple Ultra • Nutty Cake • Potato Salad • Shroom Cake • Shroom Steak • Sleepy Sheep • Spaghetti • Special Shake • Spicy Soup • Strange Cake • Super Soda • Sweet Shroom • Tasty Tonic • Thunder Rage • Volt Shroom • Yoshi Cookie • Yummy Meal
Badges
Power Jump • Mega Jump • Shrink Stomp • Multibounce • Jump Charge • S. Jump Charge • Sleep Stomp • Dizzy Stomp • D-Down Jump • Power Bounce • Power Smash • Mega Smash • Smash Charge • S. Smash Charge • Spin Smash • Quake Hammer • Power Quake • Mega Quake • Hammer Throw • D-Down Pound • Double Dip • Triple Dip • Group Focus • Quick Change • Peekaboo • Dodge Master • Happy Heart • Happy Flower • Deep Focus • HP Plus • FP Plus • Flower Saver • Power Plus • Defend Plus • Damage Dodge • P-Down, D-Up • P-Up, D-Down • HP Drain • All or Nothing • Mega Rush • Last Stand • Power Rush • Close Call • Pretty Lucky • Lucky Day • Ice Power • Fire Shield • Spike Shield • Feeling Fine • Zap Tap • Heart Finder • Runaway Pay • Refund • Money Money • Pay-Off • I Spy • Chill Out • Speedy Spin • Dizzy Attack • Spin Attack • First Attack • Bump Attack • Slow Go • Attack FX A • Attack FX B • Attack FX C • Attack FX D • Attack FX E
Techniques
Partner Moves
Headbonk • Tattle • Charge • Multibonk • Shell Toss • Power Shell • Dizzy Shell • Fire Shell • Sky Dive • Shell Shot • Air Lift • Air Raid • Body Slam • Bomb • Power Bomb • Mega Bomb • Smack • Outta Sight • Spook • Fan Smack • Electro Dash • Power Shock • Turbo Charge • Mega Shock • Belly Flop • Squirt • Water Block • Tidal Wave • Spiny Flip • Spiny Surge • Cloud Nine • Hurricane
Special Moves
Refresh • Lullaby • Star Storm • Chill Out • Smooch • Time Out • Up & Away • Star Beam/Peach Beam
Enemy/Boss Moves
Charge • Divide and Conquer
Miscellaneous
Features
Super Block • Playroom • Bowser's Diary • Luigi's Diary
Terms
Level Up • First Strike • Heart Point • Flower Point • Badge Point • Star Power • Game Over
Other
Soundtrack • Tattle List • Walkthrough