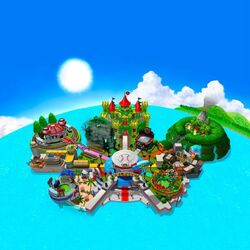 The Baseball Kingdom is a small man-made island off the coast of the Mushroom Kingdom. It was built by Princess Peach so her citizens could all play baseball. It was invaded by King Bowser and his son during the events of Mario Super Sluggers but was ultimately saved by Mario and his baseball team.
Stadiums
The Baseball Kingdom consists of eleven stadiums, each suited to a different player.
Unlockable
Ad blocker interference detected!
Wikia is a free-to-use site that makes money from advertising. We have a modified experience for viewers using ad blockers

Wikia is not accessible if you've made further modifications. Remove the custom ad blocker rule(s) and the page will load as expected.