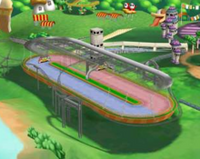 Baby Park is the third track of Mushroom Cup in Mario Kart: Double Dash!!, being in the shape of an oval-shaped loop. On one side, it's blue and on the other side it's red. This presumably represents the colors of Baby Mario and Baby Luigi. It is the shortest course by far and therefore has seven laps as opposed to three.
Other tips
Learning to mini-boost and snake really helps here to put an advantage over your opponents. Try to dodge or avoid getting hit by shells.
Reappearance
Mario Kart DS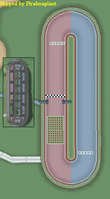 This course reappears in Mario Kart DS as a retro course, but it only has five laps. It is one of the shortest courses, like it was in Mario Kart: Double Dash!!
Mario Kart 8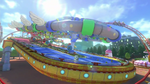 In
Mario Kart 8
the entire track is in anti-gravity mode.
Gallery
Ad blocker interference detected!
Wikia is a free-to-use site that makes money from advertising. We have a modified experience for viewers using ad blockers

Wikia is not accessible if you've made further modifications. Remove the custom ad blocker rule(s) and the page will load as expected.