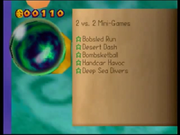 A 2 vs. 2 Mini-game or Team Mini-game is a type of mini-game that appears in the Mario Party series. They are initiated when two player panels share the same color, which creates two teams of characters. A 2 vs. 2 mini-game requires the characters to work together as a team. The team mini-games sometimes require the team to work together, or else the mini-game will not be able to be completed. For example, in the team mini-game Dungeon Dash, the characters will not be able to proceed in the dungeon unless they work together. Other mini-games like Cake Factory require each player to do a specific task in order to complete the mini-game. The winning characters of a team in a 2 vs. 2 mini-games will be rewarded the coins.
Ad blocker interference detected!
Wikia is a free-to-use site that makes money from advertising. We have a modified experience for viewers using ad blockers

Wikia is not accessible if you've made further modifications. Remove the custom ad blocker rule(s) and the page will load as expected.