Time to clean up Isle Delfino and articles!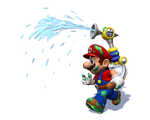 This article requires cleanup.
The editor who added this tag believes this page should be cleaned up for the following reason: Grammar fixing
You can discuss this in the comments or edit this page to improve it.
1-Up DX (also known as a 1-Up Super and 1-Up Deluxe) is a item that appears in the Mario & Luigi series. So far, it is featured in every game in the series.
Effect
Like a normal 1-Up, 1-Up Deluxes revive a fallen Bro but instead the HP meter restores to full instead of half.
They are generally more expensive and more rare to find in blocks than normal 1-Ups.
Ad blocker interference detected!
Wikia is a free-to-use site that makes money from advertising. We have a modified experience for viewers using ad blockers

Wikia is not accessible if you've made further modifications. Remove the custom ad blocker rule(s) and the page will load as expected.